The short answer is The Omnivore's Dilemma by Michael Pollan. I was already generally aware of the atrocious ways of meat production in the United States: extreme cruelty to animals; adverse impacts on human health and on the environment. But the gory details were sufficient to compell me to decide not to participate any longer. There is no excuse for treating chickens, pigs, and cattle the way large industrial producers do, and I refuse to be complicit in a system of which I so strongly disapprove. Indeed, it would be hypocritical of me to do otherwise.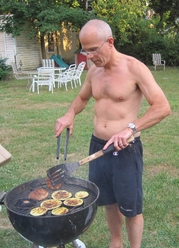 That doesn't mean I am a full-blown vegetarian. Homo sapiens is one of those animals that eat other animals in order to survive, and I have no problem with that in principle. If you can serve me a piece of pork that was once a pig who was raised and killed in as humane and environmentally sustainable a way as is reasonably possible, I will happily eat it, mindful of the pig's sacrifice. A roasted rabbit, who led a natural bunny life hopping around and eating and fucking until dispatched so skillfully that Mr/Ms Bunny never knew what hit her or him? Bring it! But getting that kind of meat requires substantially more expense and effort than does the supermarket kind, and as of yet I haven't made the effort, so I have gone without eating the flesh of cattle, chickens, pigs, turkeys, and so forth.
Fish is another matter. Figuring out which kinds are harvested in an environmentally responsible fashion also takes some homework, and they have faces, and they probably don't like suffocating any more than you or I would. But I am content to rationalize that a sardine does not have the cognitive functioning to realize how bad it's getting fucked before it ends up in a can. Maybe I will eventually change my position. For now, I need protein and don't want to depend solely on nuts and tofu. So I eat fish with some qualification.
One might say, let's see you kill and butcher that animal yourself, and then see how you feel — as Michael Pollan did. I would certainly be willing to give it a try some day — killing my own food sounds kind of cool, in fact. But for now I am a creature who lives in the suburbs, works in a city, and going hunting with my crossbow is not really a practical alternative. The idea is certainly not forever foreclosed, but for now I am content to allow someone else to kill my food animals for me.
Opting out of industrial meat has not required any difficult adjustments in my diet, because I was already eating a lot of vegetarian meals, rarely consuming red meat, and increasingly eating fresh and local food. I have had to renounce that Cambodian style noodle soup from a Cantonese place near my office, a delicious concoction made with sliced and ground pork as well as shrimp and egg noodles in broth probably made from ducks who undoubtedly fare no better than the pigs.
As for eggs, we generally buy the most environmentally correct ones available, and willingly pay a premium over the industrial kind (think of it as insurance against salmonella poisoning courtesy of a mass producer in Iowa who churns out millions of eggs a week — you don't need to be a Slow Food connoisseur to see the problem inherent in production on that scale). But that's also a tricky game, since what you read on the carton — "cage free," for example — may be bullshit. But I eat salads from a deli near my workplace, sometimes containing a hard-boiled egg about whose origins I know nothing. I am not a purist; I compromise. When I eat my kids' left-over pepperoni pizza, I peel off the pepperoni and eat it, unconcerned about the pizza being tainted with pepperoni residue. And maybe — maybe — when Thanksgiving rolls around I will decide to go along with the program and partake of the turkey. We'll see.
The result of this modest dietary change is that I feel fine both ethically and physically. I like to burn a lot of calories running, and have kept on setting personal record times since quitting the meat. Over time, I suspect our family will be eating still more local and fresh, and adjusting our diet according to the seasons in New Jersey. The rest of the family might even phase out the industrial flesh consumption. For now, this is working well for me.