If you're a runner, then you've undoubtedly heard a great deal of hype about the barefoot/minimalist running movement. Like countless others, I read Born to Run and was intrigued. The prose style is so dreadful that I was tempted to quit, but forced myself to suck it up for the sake of the content.
For context, here's a quick running résumé. At 52 years of age, I have been running for about 23 years, but only casually for the first 20 — about three times a week, four or five miles at an easy pace. In January 2008 I ran my first half marathon, and loved it so much that I ran a marathon in October 2008 and another in November 2009, the latter fast enough to qualify for Boston. At present I am not formally training for any event, and I run as much as I can in light of my substantial commute, work and family responsibilities — about 120 miles per month.
After seeing some online discussions (at my local running club) about the Vibram FiveFingers miminalist foot-glove, I decided to order a pair. Scouring the web I found that my size was out of stock everywhere. It was clear that the VFF's Warholian 15 minutes are in full swing. Vibram can't make the damn things nearly fast enough to meet the demand, and one has to beware of scammers who have popped up selling counterfeit versions. I finally back-ordered some VFF Sprints from an outdoor gear place in Oregon, and they kept moving the shipping date back so that it took a full six months for mine to arrive at my door.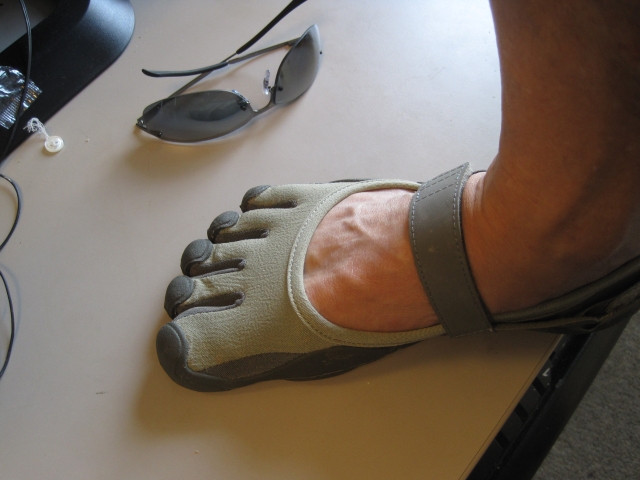 Under the influence of Born to Run, I had decided that rather than replacing my Mizuno Wave Elixir 4s, I would just continue to beat the cushioning out of them. They were pretty well-worn by the time I ran the Brooklyn Half Marathon in May 2010 (in NY Marathon-qualifying time, thank you very much), and had over 500 miles by the time I put them aside.
Put them aside, because I ran out of patience while waiting on my VFFs and got what seemed to be the next best thing that was readily available: the Mizuno Universe 3 racing flat. The things are so light they might as well be made of paper. The soles and heels are scant enough to qualify this shoe as minimal. I took them out for a easy-pace ten-mile spin on day one, and felt only minor soreness in my calves the following day. I adopted these Mizunos as my full-time shoe and perhaps not coincidentally, started running faster. Have I changed my stride? I think so, but I don't know. I haven't consciously done anything radical.
At last, three days ago, the VFFs showed up. The first time I put them on it took some doing to get my toes into their individual — whatever you call them, the counterparts of what we call fingers of a glove. But one learns quickly to become more toe-aware, and the VFF is a fascinating new sensation.
Now comes the potentially treacherous part. There are reports of a lot of people getting injured by transitioning too quickly into minimalist footwear, attempting too much too soon. Maybe I should have gone for a mile or two the first time out. But I like to run, so I went for five miles on a treadmill: the first three at an easy pace, the next couple moderately fast, the last .75 fast. It felt fine. I took the next day off, waiting to see if there were any ill effects. Experiencing none, I got on the treadmill again today for a 1-mile warmup followed by a 5-mile hill climb followed by a level half-mile to cool down, all at an easy pace. All good, and I was feeling strong the whole while. I plan on some more treadmill tomorrow, and will make my street debut the day after tomorrow for around 10 miles.
Thus it turns out that I have made a gradual transition into minimalism in three phases: (1) running in a conventional, fairly light shoe until it was beaten to hell; (2) running in racing flats full-time, then finally (3) running in the VFF. I should also mention that I am uncommonly fortunate and not prone to significant running injuries. But for me, this approach to VFF adoption seems to be working beautifully.