On May 19 I had the pleasure of running the hugely popular Brooklyn Half Marathon. This NYRR event sold out within a matter of hours after registration opened, and had over 14,000 finishers. The race starts in Prospect Park at 7:00 a.m., a fact for which I was grateful despite the inconvenience of having to get out of bed around 4:00 a.m. to get there in time from South Orange, NJ. The temperature was forecast to peak at around 80° F but it was about 58° when we started — quite reasonable. I was happy to avoid another scenario like the 2012 Boston Marathon, where the punishing heat made us renounce all ideas of any goal other than survival.
My goal here was to crack 1:30:00 for the first time. (By way of background: I am a week short of 54 years old and have been running seriously for about four years, after over 20 years of consistent but casual jogging. In the grand scheme, a 90-minute half is not spectacular but it is entirely respectable.) My previous PR was 1:30:24 set on March 4 at the E. Murray Todd Half Marathon, which I treated as a tuneup and diagnostic for Boston. Two weeks after that I set another PR for the 10K distance, using that tuneup race almost as a substitute speed workout. I approached both of those races with an enthusiastic but reasonably relaxed, let's-see-what-happens attitude which I think served me well. Both were among my more disciplined races, with an even, realistic, quality pace most of the way and a slight pickup at the end — and I had fun. Then came the debacle of Boston, a disappointment that took me a week to get over, after which I set my sights on Brooklyn as a way to get some revenge. The months of work that went into Boston had not been adequately rewarded; I wanted to cash in.
Three of us South Mountain athletes set out before sunrise by car to Manhattan, parked in a lot and took a taxi to the start, arriving with little more than sufficent time to dump our official plastic bags with our personal effects at the baggage check and start standing in line to pee. One or two ritual trips to the Porta-Potty were not quite enough for me this time. Standing in my corral for 20 minutes prior to the start I was having doubts about whether I had sufficiently emptied by bladder, which usually gets me through a half marathon without complaint.
We got underway, and Mile 1 went by in 6:43, several seconds ahead of my target pace, but not too bad.
Upon seeing some available Porta-Pottys I made the fateful decision to drain it, and ran a 7:21 for Mile 2. Not good. I was 12 seconds behind the pace and needed to pick it up.
Mile 3 was 6:22, way too fast. I hadn't meant to make up the deficit in one mile but it happened anyway — my feet were doing that left-right-left-right thing a bit too frequently.
Mile 4: 6:50. I wanted to see a number between 6:50 and 6:52, so this was splendid.
Mile 5: 7:01. Disappointing, but my watch said a total 34:17 had elapsed, a few seconds ahead of the goal pace.
Mile 6: 7:02. Now I was behind the pace again, and not sure why. There had been some hills, but I didn't think they should have slowed me down so much. Demoralized, I wished I had a Metrocard or cash on me so I could quit and take the subway to the finish at Coney Island, get my gear and go home. Instead I picked up the pace.
Mile 7: 6:32, way faster than intended. What happened to my discipline and self-control?
Mile 8: 6:46. Acceptable.
Mile 9: 6:58, several seconds too slow. I was now paying for the excess of miles 3 and 7, getting fatigued, and looking forward to getting this over with. It's probably not uncommon for runners in this condition to squint into the distance in search of the next mile marker.
Mile 10: 6:54. A little slow, but my watch read 1:08:29. Still on pace to meet the goal if only I can hang on.
Mile 11: 6:50. Excellent!
Mile 12: 7:01. Shit. From here on I was trying to give myself the "run faster" command but could not get myself to obey. There was no part of me that hurt particularly, and I couldn't determine which component was giving out: legs, lungs or will?
The final 1.1 miles took me 7:40, a 6:59/mile pace. There is a short, steep ramp up to the boardwalk that surprised me when I ran this course two years ago, but this time I was prepared and charged it with furious anger, exhaustion or no. Over the last couple hundred meters the motivation of seeing the finish in sight was enough to get me to stop obsessing at long last and run much faster than at any point hitherto. But it was too late: my official time was 1:30:01. I had missed it by two seconds.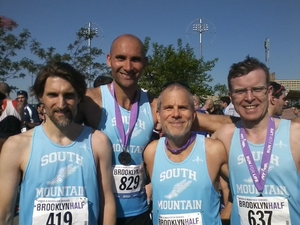 Failure to hold the pace in miles 12 and 13 killed me, but the chain of cause and effect leads back to miles 3 and 7 in which I squandered too much energy, and further back to the bathroom episode which brought about my anxiety about recouping lost time. Further still, and we come upon the real teaching point of this experience. There's no doubt that my fitness was good enough to run the course in 1:29:59, and experience shows that I am capable of executing a plan. So what went wrong? At Boston a spectator was holding up a sign that said "Running is 80% mental and 40% physical." We got a kick out of the joke, but like most good jokes, it points to the truth. My successful races in March were ones where my attitude was more relaxed; I ran for enjoyment, not just to achieve goals. In the days preceeding this race I created too much pressure by vowing to redeem Boston, and added an extra, unhelpful layer of uncertainty and doubt. For best results, this sport of distance running requires you not just to tune up your physical fitness but also your head — your other 80%, if you will.
That brings me to the happy conclusion, after all this hand-wringing and overthinking. Next time I will crack 1:30:00 by 10 or 15 seconds, because there will be nothing to worry about: I know I can do it. And I still have ahead of me the pleasure of passing this landmark.
P.S: It was a successful day, my sloppy performance notwithstanding. I beat my previous PR by 23 seconds and came in 22nd of 363 in my 50-54 age/gender group. But that's not all. Five of us South Mountain Runners were in the race, and three set PRs. The unstoppable running machine Lucky John Parry (rightmost in the photo) ran 1:21:50 and was 9th, yes 9th of 554 in the men's 45-49 age group in this competitive, massive field. Our own venerable head coach Bill Haskins posted a 125:18, 29th of 948 M40-44 (on the left on in the photo); Hamish Wright (next to Bill), 1:24:43 and 29th of 1339 M35-39; and two other locals not shown in the photo ran strong.
But wait, there's more. This South Mountain team was 9th in a field of 63 in the men's 40+ category. Translation: we kicked some ass. And we look forward to going back and kicking some more.