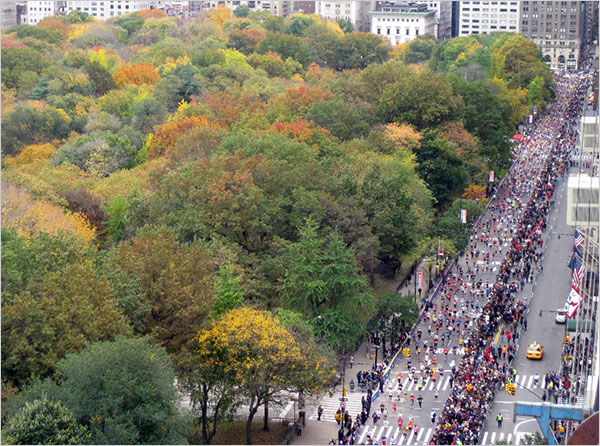 I had the privilege of running the 2009 New York Marathon on Sunday, November 1. This was my second marathon; the first was Philadelphia in 2008. I trained for 20 weeks using a program from runningplanet.com specifically designed for a 3:40:00 marathon. In the final week of training I decided to reset my goal to 3:35:59, which qualifies a male in my 50-something age bracket for the prestigious Boston Marathon.
The NY Marathon is a logistical tour de force, with its 40,000-plus runners. Organizers clearly went to great lengths to keep everything moving and avoid excess congestion. Thus the start was divided into three waves, and these in turn were further partitioned into separate routes that only merged several miles later, where the streets were wider and people were naturally spread out more than at the start.
The streets were lined with hordes of cheering people. The atmosphere was highly charged, and despite the fact that I knew better, and even as I knew what I was doing, I committed the classic marathoner's mistake known as going out too fast. Instead of running around 8:14 per mile, my pace over the first 10K was 7:53.
Gradually I calmed down and ran the middle third of the race at a more reasonable pace. But you can't change the past, and by mile 18 I knew I was going to have to pay for my earlier lack of discipline. I had taped to my left wrist a timetable showing how much time had to have elapsed at each mile if I was to attain my goal time, and from consulting it I knew I was ahead of the pace throughout the course. But by mile 20 I was fading and the margin of error was getting slimmer. I concluded that I had nothing left, therefore nothing to lose. I would ask myself, can you stand another six miles of this? Yes I can. At five miles to go: can you stand another five? Yes I can. And so on.
The split times over the last six tell a tale of alternately fading, then fighting back. Mile 20, 8:22 — too slow. Mile 21, 8:28 — even slower! Mile 22, 8:12 — excellent, two seconds ahead of the goal pace. Mile 23, 8:10 — great. Mile 24 which is largely uphill, 8:49 — despair! Mile 25, 8:04 — heroic. Mile 26, 8:22 — too slow, but we're almost home. For the last 0.2 I was running at an 8:35 pace — definitely fading fast.
When at long last the great sign that said Finish came into view, I was so spent that it took me a couple of beats to comprehend what it meant. I crossed the finish line and stopped my watch at 3:34:44: success.
Weaving and unsteady on my feet, I was accosted by a volunteer who led me to the medical tent, where I ended up lying on a cot recovering for about 25 minutes. On the adjacent cot was a guy named John from New Zealand, apparently in his 40s, who had also nailed his BQ (Boston qualifier) at 3:17 — and who had likewise spent everything he had and then some, and landed in the medical tent like me. In a shared state of total exhaustion and elation, we had a wonderful conversation about the nature of this amazing thing known as marathon running. It was a highlight of the whole experience.
During this conversation with John I had an insight: a marathon is at once both a communal, public event — a grand party, an orgy of thousands running through the streets! — and at the same time, as intensely personal and intimate an experience as you can have. It is absolutely solitary, but in a way that is neither good or bad. You drop down into ever deeper realms of your own consciousness and find out about who you really are. Think ten years of psychotherapy compressed into a few hours. Or, for you Zen practitioners, think of a week sesshin crammed into a single morning. No wonder the marathon game isn't for everyone. I believe that many marathon runners are motivated by nothing other than a search for the Truth. We intuitively understand what Master Bassui teaches: the Great Question cannot be resolved by the discursive mind.
Second-guessing myself, I speculate that I could well have attained the same result or better if I had run a more disciplined, strategic race. It would have been more elegant if I had conserved energy in the first half and had a powerful finish, running the last miles faster, not slower, than any of the preceding. But as experiences go, what actually did happen cannot be surpassed. It was a marvelous adventure.