My wife and I signed up for one of those deals where you pay a local farm up front and then, for the rest of the season, you stop by weekly to collect your hefty basket of quality produce. The good/bad news with these arrangements is that you sometimes find yourself under pressure to make use of vegetables that are unfamiliar, and which you would have walked right past if you'd been shopping in a store. Such was the case with a big-ass sunshine squash we recently got, one of those varieties with a hard thick skin that you'd be a fool to take on with a vegetable peeler. One recipe recommended roasting the squash in an oven and letting it cool before continuing to fuck with it. I decided it would be fun to use this idea for a soup, and began improvising with what was in our kitchen. I didn't measure anything; all quantities are approximate. You may wish to use less or more stock depending on whether you have a moderate amount of squash or a shit-ton. And if you want to substitute another squash variety like butternut, this should work brilliantly, but you won't need to roast it. I'd suggest preparing the aromatics as described below, then cutting the squash up into chunks and braising it in the stock until it's soft enough to mash.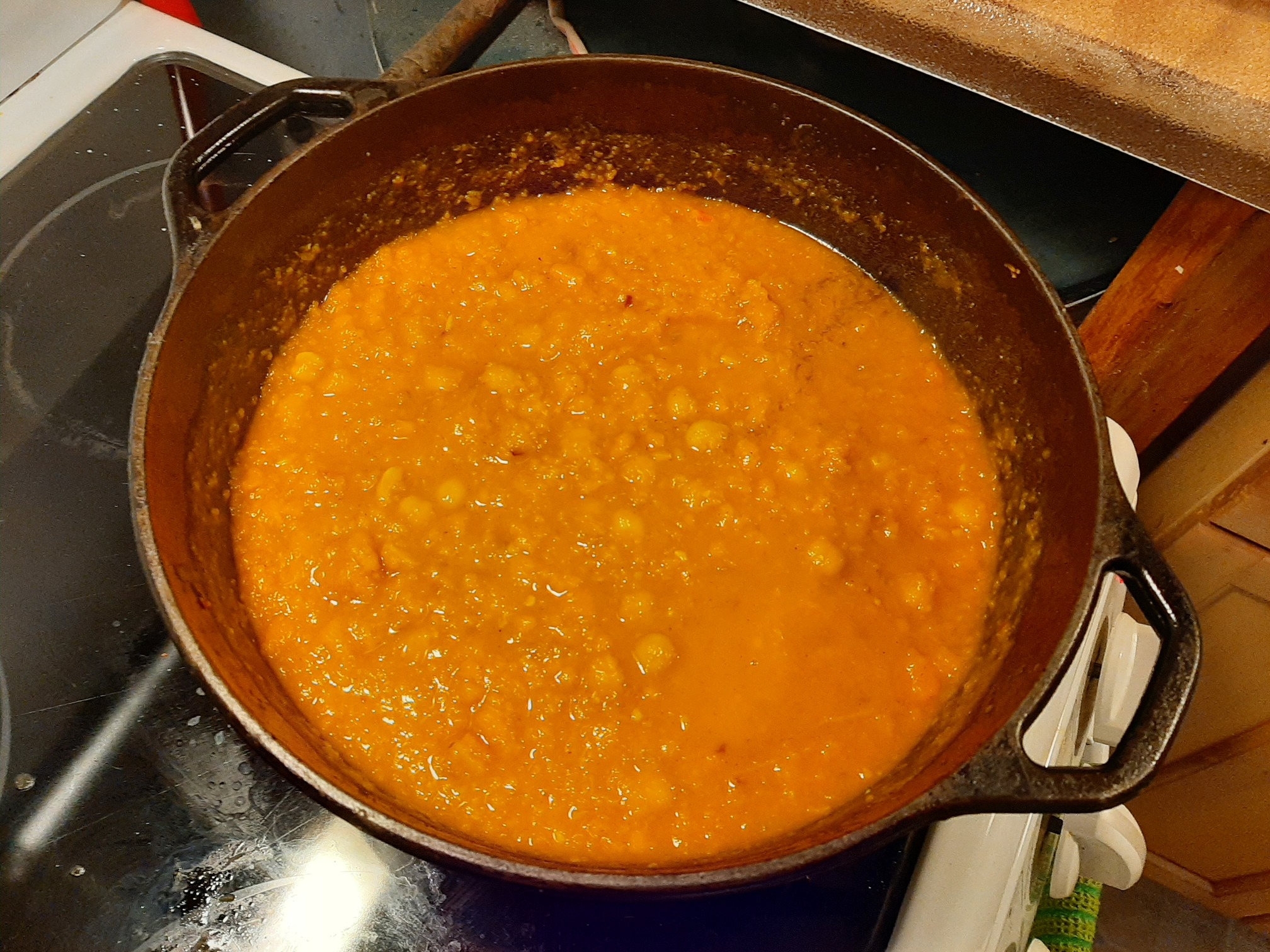 Preparation time: Over two hours from start to finish, much of it unattended.
Ingredients:
a large sunshine squash, buttercup squash, or similar
olive oil, about 3 tbsp
1 heaping tbsp mintzed garlic
1 heaping tbsp mintzed ginger
1 tbsp cumin
1 medium onion, diced
salt and fresh ground pepper
1/2 tsp (or to taste) hot pepper flakes
4 cups vegetable (or chicken) stock
1 28-oz can of chick peas (or canellini beans), rinsed and drained
(optional) fresh parsely for garnish
Step One With a fork, poke some holes in the squash in several places, put it in a roasting pan with perhaps an inch of water. Roast the squash in a 350° oven for about an hour, until it yields to a fork. Then take it out and let it cool until you can handle it comfortably. Next, remove the stem, cut it in half, and remove the seeds. Use a knife to peel off the skin (this is the most tedious part of the project). Break up the squash — or let it fall apart — into chunks approximately the size of your fist or smaller.
Step Two In a large pot, heat the olive oil, then drop in the garlic and ginger and cook briefly, until they are sizzling and fragrant — about 20 seconds. Then put in the onion and cook, stirring occasionally, until the onion is soft.
Step Three Add the stock, squash, hot pepper flakes, cumin, and salt and pepper to taste. Stir it up and let it cook at a steady simmer, partially covered, for about 15 to 20 minutes. The objective is to let the flavors blend and get the squash very soft.
Step Four Use a potato masher to mash the squash into a liquid, stir it all up and adjust your seasonings if need be. Then add the beans, stir, and cook a bit longer to let the beans warm up.
Step Five You're all done, unless you want to pretend you're a restauranteur. If so, garnish with 17 cents worth of parsley and imagine yourself charging $16 instead of $9 for a bowl of soup.
The result was so ridiculously delicious that I felt compelled to write it up as a recipe and share it. If you cook this, feel free to tell us in the comments how it turned out and what good tweaks you introduced, if any.